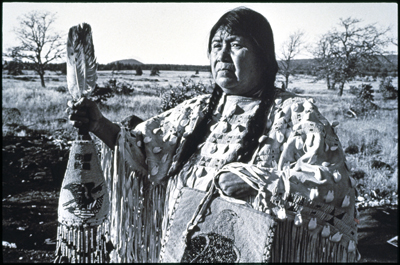 Artwork copyright Eduardo Calderón. Photo courtesy of the artist.
Louise Billy, Mid-Columbia River,
1981
ABOUT THE ARTWORK
Louise Billy, Mid-Columbia River is a portrait by Eduardo Calderón of Louise Billy, who created traditional buckskin designs, beadwork, and cedar bark baskets. She lived in Eastern Washington, near Goldendale. Calderón notes "A photograph can say a great deal more about a human situation than an extensive written statement." This photograph is part of Calderón's series of portraits of Native American artisans of the Pacific Northwest. Calderón explores and interprets the human condition.
This artwork was acquired for the State Art Collection in partnership with Monroe School District.
ABOUT THE ARTIST
A student of anthropology, Northwest photographer Eduardo Calderón creates artworks that invite imaginative interpretations. He chooses his compositions to encourage visual and narrative ambiguity. Born in Arequipa, Peru, many of his photographs were taken during travels to Latin America and Europe. He has lived and worked in Washington State since 1975.
ARTWORK DETAILS
| | |
| --- | --- |
| Medium | Gelatin silver print |
| Dimensions | 11 in x 13 15/16 in (sheet) |
| ID Number | WSAC1991.064.000 |
| Acquisition Method | Direct purchase |
| Artist Location | Washington, United States |
Location Information
Agency
Department of Social and Health Services
Artwork Location
Division of Vocational Rehabilitation
4th Floor, Wellness Room
WA County
Thurston
Placement
Interior
Site Type
State Agency
Address
4565 7th Avenue SE
Lacey, WA 98503
Geo. Coordinates
47.041304, -122.826280
Before Visiting
Some artworks may be located in areas not accessible to the general public (especially in K-12 public schools). Consider contacting the site prior to a visit to ensure access.
Map