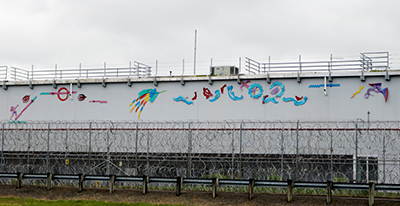 Artwork copyright Susie Bevins-Ericsen. Photo courtesy of Washington State Arts Commission.
The Vision,
1996
ABOUT THE ARTWORK
Native Alaskan artist Susie Bevins-Ericsen created the sculptural installation The Vision for Clallam Bay Corrections Center. It is comprised of 25 painted aluminum elements. She based the images on "legends and visions used by Native American elders for instruction and to pass wisdom and knowledge about the spiritual realm to the next generation."
This artwork was acquired for the State Art Collection in partnership with Department of Corrections.
ABOUT THE ARTIST
Native Alaskan artist Susie Bevins-Ericsen creates mixed media sculptures. Her traditional Inupiat name is "Qimmiqsak". Inupiat stories she heard as a child in Alaska often inspire her artworks, which celebrate Native-Alaskan culture and speak to the survival of a people. She is based in Anchorage, Alaska.
ARTWORK DETAILS
| | |
| --- | --- |
| Material Category | Sculpture - coated metals |
| Medium | Painted and formed aluminum |
| Dimensions | Overall installation 15 ft x 80 ft |
| ID Number | WSAC1993.163.000 |
| Acquisition Method | Site responsive commission |
| Artist Location | Alaska, United States |
Location Information
Agency
Department of Corrections
Artwork Location
Clallam Bay Corrections Center
Outer façade of institution
WA County
Clallam
Placement
Exterior
Site Type
State Agency
Address
1830 Eagle Crest Way
Clallam Bay, WA 98326
Geo. Coordinates
48.240047 | -124.287102
Before Visiting
Some artworks may be located in areas not accessible to the general public (especially in K-12 public schools). Consider contacting the site prior to a visit to ensure access.
Map






Menu