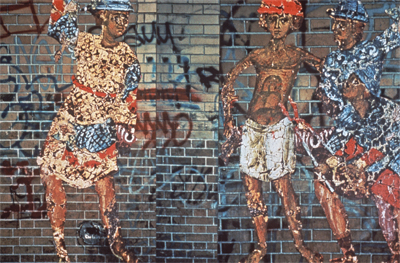 Artwork copyright Nomi Kaplan. Photo courtesy of the artist.
Brooklyn Illuminations #3,
1985
Location:
Pierce College - Fort Steilacoom, Lakewood
ABOUT THE ARTWORK
Brooklyn Illuminations #3 is a colaged photograph by artist Nomi Kaplan. She captured part of the image in a neighborhood in Brooklyn, New York. It is part of Kaplan's "Brooklyn Illuminations" series where she used collage to pose historical figures from famous artworks into modern settings. She notes, "The graffiti is a means of communication. It is also a call for attention. It serves notice that all is not well. […] Like the graffiti it incorporates, my work asks to be decoded, interpreted and understood or questioned according to the viewer's imagination, experiences and political consciousness."
This artwork was acquired for the State Art Collection in partnership with Pierce College.
ABOUT THE ARTIST
Vancouver, British Columbia-based artist Nomi Kaplan creates photographs, photo collages, sculptures, and video art.
Kaplan was born in Lithuania, Northeastern Europe, and immigrated with her family to Canada in 1939, feeling Nazi persecution. She has lived in Vancouver since 1955. Kaplan graduated from the Vancouver School of Art (now known as the Emily Carr University of Art and Design). She served as a teacher and lecturer at the Emily Carr College of Art and the University of British Columbia (both in Vancouver, British Columbia, Canada), among other institutions.
ARTWORK DETAILS
| | |
| --- | --- |
| Medium | Incorporated color coupler print |
| Dimensions | 16 in x 20 in |
| ID Number | WSAC1987.034.000 |
| Acquisition Method | Direct purchase |
| Artist Location | British Columbia, Canada |
Location Information
Agency
Pierce College District
Artwork Location
Pierce College - Fort Steilacoom
Cascade Building, Level 3 Welcome Center
WA County
Pierce
Placement
Interior
Site Type
College
Address
9401 Farwest Dr. SW
Lakewood, WA 98498
Geo. Coordinates
47.172019 | -122.570950
Before Visiting
Some artworks may be located in areas not accessible to the general public (especially in K-12 public schools). Consider contacting the site prior to a visit to ensure access.
Map


Menu