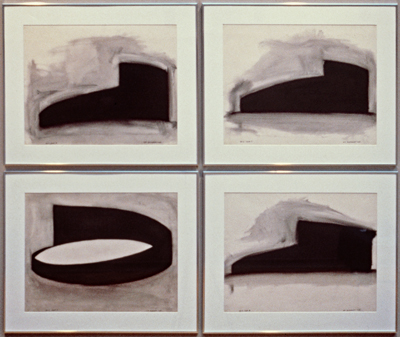 Artwork copyright Robert Maki. Photo courtesy of the artist.
360° Triangle #7,
1983
ABOUT THE ARTWORK
360° Triangle #7 is a drawing by artist Robert Maki. It is part of his series of drawings of sculptural forms. The series plays with how negative and positive space interact at different angles. He notes, "I use drawing to think through and record information about existing sculpture – sometimes drawing specific images from memory and other times directly from the actual piece or cardboard model."
We do not currently have a digitized image of this artwork.
This artwork was acquired for the State Art Collection in partnership with Pierce College.
ABOUT THE ARTIST
Northwest artist Robert Maki creates minimalist abstract sculptures, that provide precise angles and sight lines that are important to the viewer's experience and the overall design. The direction of the sun, time of day, and weather conditions are often also important factors in Maki's sculptures, because they affect how the viewer sees the artworks.
Born in Walla Walla, Southeastern Washington, Maki received a Bachelor of Arts degree from Western Washington University in Bellingham and a Master of Fine Arts degree from the University of Washington in Seattle in 1966. He was honored with a Washington State Governor's Arts and Heritage Award in 2012. His artworks are part of many collections, including Seattle Art Museum and the Smithsonian American Art Museum in Washington D.C.
ARTWORK DETAILS
| | |
| --- | --- |
| Medium | Graphite on vellum |
| Dimensions | 19 in x 24 in |
| ID Number | WSAC1987.029.001 |
| Acquisition Method | Direct purchase |
| Artist Location | Washington, United States |
Location Information
Agency
Pierce College District
Artwork Location
Pierce College - Fort Steilacoom
Olympic Building (OLY) South, 1st Floor, near Childhood Development
WA County
Pierce
Placement
Interior
Site Type
College
Address
9401 Farwest Dr. SW
Lakewood, WA 98498
Geo. Coordinates
47.172726 | -122.571926
Before Visiting
Some artworks may be located in areas not accessible to the general public (especially in K-12 public schools). Consider contacting the site prior to a visit to ensure access.
Map

Menu