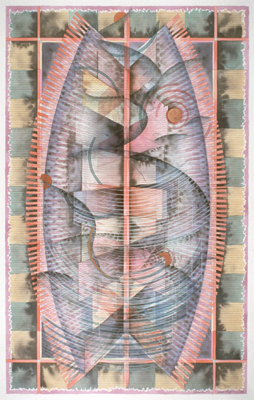 Artwork copyright Bill Hoppe. Photo courtesy of the artist.
Whirled,
1986
Bill Hoppe

(American, born 1945)
Location:
Pierce College - Fort Steilacoom, Lakewood
ABOUT THE ARTWORK
Whirled is part of artist Bill Hoppe's series of six paintings created after moving to New York City. Energetic movement and patterns characterize the abstract composition. Circular forms repeat, overlap, and interact. He describes these pieces as "a visual record of my assimilation of aspects of life in New York with long established attitudes gained through the past sixteen years in the Northwest."
This artwork was acquired for the State Art Collection in partnership with Pierce College.
ABOUT THE ARTIST
Oregon-based artist Bill Hoppe creates paintings that investigate color, form, and nature through geometric abstraction. He is a professor of art at Central Oregon Community College. He received a Bachelor of Arts degree from St. John's University in Minnesota in 1967. He received a Master of Fine Arts degree from the University of Washington in Seattle in 1973.
ARTWORK DETAILS
| | |
| --- | --- |
| Medium | Acrylic paint, pencil, and ink on paper |
| Dimensions | 53 in x 33 1/2 in |
| ID Number | WSAC1987.027.000 |
| Acquisition Method | Direct purchase |
| Artist Location | Oregon, United States |
Location Information
Agency
Pierce College District
Artwork Location
Pierce College - Fort Steilacoom
Cascade Building, 3rd Floor, Cascade Division Offices Area
WA County
Pierce
Placement
Interior
Site Type
College
Address
9401 Farwest Dr. SW
Lakewood, WA 98498
Geo. Coordinates
47.171990 | -122.570875
Before Visiting
Some artworks may be located in areas not accessible to the general public (especially in K-12 public schools). Consider contacting the site prior to a visit to ensure access.
Map