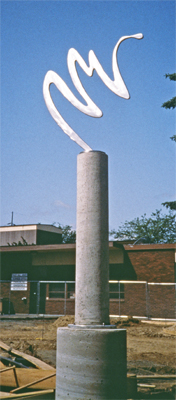 Artwork copyright Steve Jensen. Photo courtesy of the artist.
Pacific Winds,
1988
ABOUT THE ARTWORK
Artist Steve Jensen's sculpture Pacific Winds is inspired by the flow and movement of water. Rising up above the viewer's head on a concrete column, this piece also suggests the quality of sea air in the Pacific Northwest. He notes, "The sea is ingrained in my heritage. My Norwegian father, and his father before him, were fishermen. I grew up on and around the water. The sea is likewise a part of our collective heritage. It is the life force in our world."
This artwork was acquired for the State Art Collection in partnership with Yakima Valley Community College.
ABOUT THE ARTIST
Seattle-based artist Steve Jensen creates carved wooden and metal sculptures. Growing up on his father's fishing boat, his artworks are influenced by Norwegian carving, boat-building, and fishing traditions. He notes, "I come from a long tradition of Norwegian fishermen and boat builders. The chisels I use have been passed from my grandfather to my father to me. The craftsmanship of my work speaks to the universality and the timelessness of carving."
ARTWORK DETAILS
| | |
| --- | --- |
| Material Category | Sculpture - other metals |
| Medium | Aluminum and concrete |
| Dimensions | 9 ft x 4 ft 8 in x 17 in |
| ID Number | WSAC1992.101.000 |
| Acquisition Method | Direct purchase |
| Artist Location | Washington, United States |
Location Information
Agency
Yakima Valley College
Artwork Location
Yakima Valley College
Central courtyard, outside bookstore entrance in the Hopf Union Building (HUB)
WA County
Yakima
Placement
Exterior
Site Type
College
Address
West Nob Hill Blvd. & South 16th Ave.
Yakima, WA 98902
Geo. Coordinates
46.586590, -120.528597
Before Visiting
Some artworks may be located in areas not accessible to the general public (especially in K-12 public schools). Consider contacting the site prior to a visit to ensure access.
Map