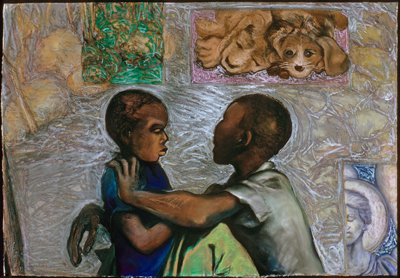 Artwork copyright Louise Williams. Photo courtesy of the artist.
Where -- Through the Sun,
1994
Louise Williams

(American, born 1947, died 2004)
ABOUT THE ARTWORK
Late artist Louise Williams draws inspiration and imagery from memories and from photographs of children seen in newspapers and magazines. Exploring interconnectedness and unity, 'Where-Through the Sun' was created as part of a series called "Roads to the Interior" which "seeks to discover the beauty inherent in our relationships."
This artwork was acquired for the State Art Collection in partnership with Kent School District.
ABOUT THE ARTIST
Late Northwest artist Louise Williams created artworks informed by everyday life, by travel, and by her experiences as a woman and mother.
Williams received a Bachelor of Arts from The Evergreen State College in Olympia, Washington, and a Master of Fine Arts in drawing and painting from Central Washington University in Ellensburg.
ARTWORK DETAILS
| | |
| --- | --- |
| Material Category | Work on paper - mixed media |
| Medium | Pastel, oil pastel, and oil stick on paper |
| Dimensions | 30.125 in x 44.125 in (Sheet) |
| ID Number | WSAC1995.275.000 |
| Acquisition Method | Direct purchase |
| Artist Location | Washington, United States |
Location Information
Agency
Washington State Arts Commission
Artwork Location
Washington State Arts Commission
Not on display. At ArtsWA pending re-siting.
WA County
Thurston
Placement
Interior
Site Type
State Agency
Address
711 Capitol Way S., Suite 600
Olympia, WA 98504
Geo. Coordinates
47.041975 | -122.901474
Before Visiting
Some artworks may be located in areas not accessible to the general public (especially in K-12 public schools). Consider contacting the site prior to a visit to ensure access.
Map


Menu