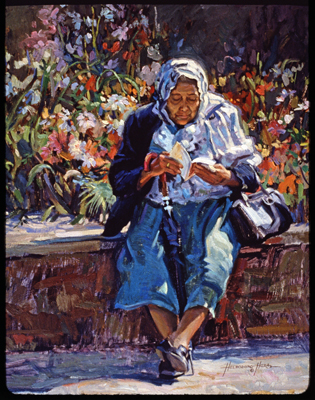 Artwork copyright Heleodoro Heras. Photo courtesy of the artist.
Tiempo Para La Poesia (Time for Poetry),
1993
Heleodoro Heras

(American | Mexican, born 1944)
Location:
Division of Vocational Rehabilitation, Lacey
ABOUT THE ARTWORK
Artist Heleodoro Heras saw the subject of his painting "Tiempo Para La Poesia (Time for Poetry)" while waiting for a bus along a busy street in Guanajuato, Mexico. The artist notes that the background, composed of expressive and colorful flowers, represents "the delight she was experiencing while in her thoughts."
This artwork was acquired for the State Art Collection in partnership with Royal School District.
ABOUT THE ARTIST
Heleodoro Heras is a Washington-based artist and illustrator. Born in Mexico, Heras emigrated to America as a teenager and graduated from Art Center College of Design in Los Angeles after military service. His realistic portraits and figurative paintings are inspired by frequent visits to Mexico.
ARTWORK DETAILS
| | |
| --- | --- |
| Medium | Oil paint on hard board |
| Dimensions | 24 in x 20 in |
| ID Number | WSAC1995.037.000 |
| Acquisition Method | Direct purchase |
| Artist Location | Washington, United States |
Location Information
Agency
Department of Social and Health Services
Artwork Location
Division of Vocational Rehabilitation
4th Floor, Parents' Room
WA County
Thurston
Placement
Interior
Site Type
State Agency
Address
4565 7th Avenue Southeast
Lacey, WA 98503
Geo. Coordinates
47.041975 | -122.901474
Before Visiting
Some artworks may be located in areas not accessible to the general public (especially in K-12 public schools). Consider contacting the site prior to a visit to ensure access.
Map



Menu