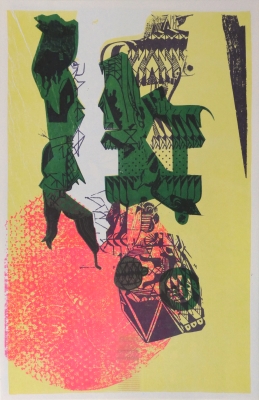 Artwork copyright Robert Hardgrave. Photo courtesy of Washington State Arts Commission.
Baggleridge,
2014
ABOUT THE ARTWORK
Artist Robert Hardgrave created this detailed, 4-color print as part of his Baggleridge series of Risograph prints. Hardgrave plays with the special qualities of Risograph printing by using intricate patterns and contrasting large areas of bright colors. But the final artwork still shows us the forms and patterns that are also typical in his sculptures and paintings.
The Risograph is a brand of digital duplicators from the late 1980s. Artists generally like Risograph printing because the process is visible and imperfect. There are slight variations of ink coverage, color alignment, and newspaper-like qualities among different prints of the same image.
This artwork was acquired for the State Art Collection in partnership with University of Washington.
ABOUT THE ARTIST
Seattle-based artist Robert Hardgrave creates paintings, acrylic transfer prints, and sculptures. His artworks use bright colors, complex abstract compositions, and interacting forms. He describes himself as "a restless artist that changes media regularly... Each new material requires unique allowances; I want materials to guide the work toward what it is going to be."
Hardgrave is a member of the Duwamish River Artist Residency in Seattle. He earned a degree in Graphic Design from Seattle Central College in 2000.
ARTWORK DETAILS
| | |
| --- | --- |
| Medium | Risograph print on ivory paper, 3 to 4 layers |
| Dimensions | 16 3/16 in x 10 1/2 in (overall) |
| ID Number | WSAC2018.028.008 |
| Acquisition Method | Curated Selection |
| Artist Location | Washington, United States |
Location Information
Agency
University of Washington
Artwork Location
University of Washington
Health Sciences South Campus Center (SOCC), student study area (1601 NE Columbia Rd, Seattle)
WA County
King
Placement
Interior
Site Type
University
Address
15th Ave. NE, between NE Pacific St. and NE 45th St.
Seattle, WA 98195
Geo. Coordinates
47.650552, -122.309165
Before Visiting
Some artworks may be located in areas not accessible to the general public (especially in K-12 public schools). Consider contacting the site prior to a visit to ensure access.
Map