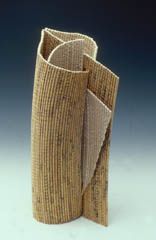 Artwork copyright Dona Anderson. Photo courtesy of the artist.
Silo,
2001
Location:
Washington State University - Vancouver, Vancouver
ABOUT THE ARTWORK
Artist Dona Anderson is best known for her fiber works with a particular focus on contemporary, abstract baskets such as Silo , a work acquired in 2003 for Washington State University's Vancouver campus.
This artwork was acquired for the State Art Collection in partnership with Washington State University.
ABOUT THE ARTIST
Seattle-based fiber artist Dona Anderson uses traditional basketry techniques to create abstract and conceptual baskets in a variety of materials.
ARTWORK DETAILS
| | |
| --- | --- |
| Material Category | Sculpture - mixed media |
| Medium | Fiber |
| Dimensions | 16 in x 8 in x 5 in |
| ID Number | WSAC2003.043.000 |
| Acquisition Method | Direct purchase |
| Artist Location | Washington, United States |
Location Information
Agency
Washington State University
Artwork Location
Washington State University - Vancouver
Multimedia Classroom Building (VMMC), 1st floor study lounge (South end)
WA County
Clark
Placement
Interior
Site Type
University
Address
14204 NE Salmon Creek Ave.
Vancouver, WA 98686
Geo. Coordinates
45.730323 | -122.63676
Before Visiting
Some artworks may be located in areas not accessible to the general public (especially in K-12 public schools). Consider contacting the site prior to a visit to ensure access.
Map



Menu