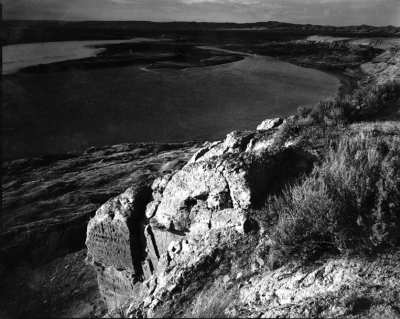 Artwork copyright Glenn Rudolph. Photo courtesy of the artist.
White Bluffs,
1998
ABOUT THE ARTWORK
Artist Glenn Rudolph is recognized for his work photographing vacant landscapes, abandoned spaces, and people who inhabit them. Along the way, he indirectly captures time, place, and community. His photographs are about the changing face of the Pacific Northwest.
This artwork was acquired for the State Art Collection in partnership with University of Washington - Bothell and Cascadia Community College.
ABOUT THE ARTIST
Glenn Rudolph's photographs tell the powerful stories of the Northwest's changing landscapes and communities. He has focused on disappearing farmlands, the bankrupt Milwaukee Railroad Company, landless Indian tribes, neighborhood gardens, and abandoned mine sites among other subjects.
Rudolph is a former commercial fisher and has been a photographer since the mid-1970s. He received a Bachelor of Fine Arts degree in painting from the University of Washington in Seattle in 1968.
ARTWORK DETAILS
| | |
| --- | --- |
| Material Category | Work on paper - photograph |
| Medium | Gelatin silver print on paper |
| Dimensions | 30 in x 40 in |
| ID Number | WSAC2001.057.004 |
| Acquisition Method | Direct purchase |
| Artist Location | Washington, United States |
Location Information
Agency
University of Washington
Artwork Location
University of Washington - Bothell
Founders Hall (UW1 building), 2nd floor south hallway, east wall
WA County
King
Placement
Interior
Site Type
University
Address
18115 Campus Way NE
Bothell, WA 98011
Geo. Coordinates
47.760694, -122.191129
Before Visiting
Some artworks may be located in areas not accessible to the general public (especially in K-12 public schools). Consider contacting the site prior to a visit to ensure access.
Map