The Poetry Out Loud National Finals were held in early May. Washington State Poetry Out Loud Champion Matthew Valentine received an honorable mention for the Western Region. Enjoy videos and audio from Poetry Out Loud—and the new original poetry contest Poetry Ourselves—below:
📖 Read: 2023 Poetry Out Loud National Champion announcement
📺 Watch: 2023 Washington State Poetry Out Loud Final Competition
📺 Watch: 2023 Washington State Poetry Out Loud – Students Speak
🎧 Listen: 2023 Washington State Poetry Ourselves finalists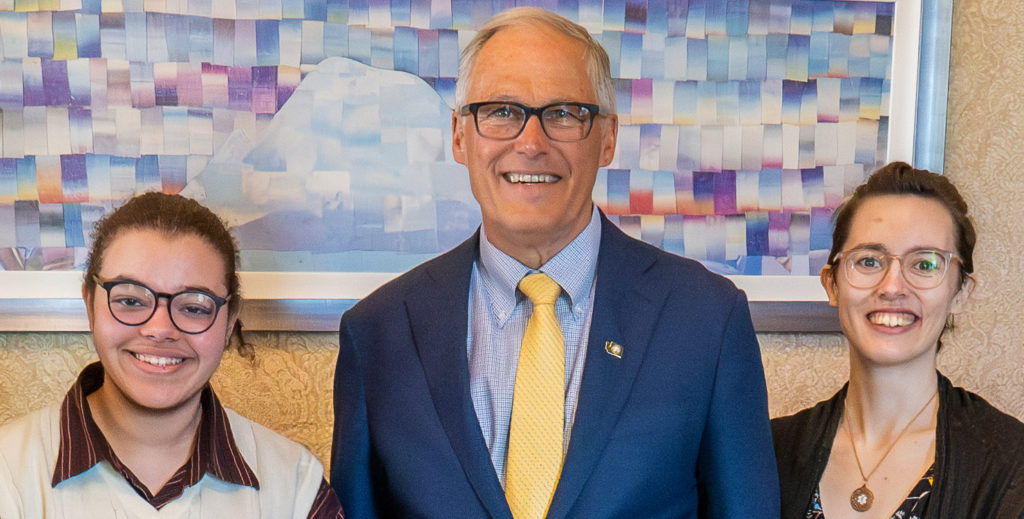 On Wednesday, May 24, Governor Inslee spoke with Arianne and Matthew about how they developed their interest and skills in the practice of poetry. Matthew, currently a student at Olympia High School, noted the importance of making a poem "your own" in recitation. Arianne, who became the seventh State Poet Laureate on May 4, recommended the work of poet and essayist Ross Gay.
Matthew Valentine visited the ArtsWA offices with Olympia High School English teacher Carolyn Gilman. Matthew was given a custom screen print to acknowledge his accomplishments at the Poetry Out Loud State Final. The print was made by Write253, a literary arts and printmaking organization whose mission is to provide meaningful and transformative writing, publishing, and artistic opportunities that cross boundaries and create community for teens and young adults in greater Tacoma.