Art Service Organization Support Grants
---
To respond to evolving organizational needs brought on by the pandemic, our grant programs for FY22 will be changing. This program will open as a recovery program. Check back soon for updated grant program information and/or sign up for our newsletter on our homepage for updates.
---
NOTE: Hannah Dahlke is no longer on staff. Not all links have been updated. Please reach out to Miguel Guillén, Program Manager at miguel.guillen@arts.wa.gov or Audrey Molloy, Program Assistant at audrey.molloy@arts.wa.gov.
---
This grant provides operating support to regional and statewide non-profit arts service organizations. These groups provide training, workshops, conferences, networking, technical assistance and other professional development to arts professionals. For complete information, please review the grant program guidelines below.
Regional Arts Service Organizations may request up to $8,000. 

Statewide Arts Service Organizations may request up to $25,000.
Program is closed for 2020 and will be available again in 2021.
Check back for details.

The following organizations are eligible to apply:
Regional Arts Service Organizations
Statewide Arts Service Organizations
Organization provides professional development services for arts professionals.
Must work with arts professionals from at least three counties in one ArtsWA defined region.
At least 10% of the organization's total public program budget must be designated for professional development services for arts professionals in the region.
Eligible for grants up to $8000.
Organization provides professional development services for arts professionals.
Must provide services in ten or more counties, and/or:
Host one or more annual convening(s) of arts professionals from across the state that includes planned professional development activities.
Statewide ASOs do not perform, produce, preserve, present, or teach art.
Organization is are encouraged to work with regional arts organizations to help meet statewide distribution of services obligation.
A statewide ASO with an annual operating budget of $150,000 or more may request up to $25,000.
Washington State Arts and Culture Regions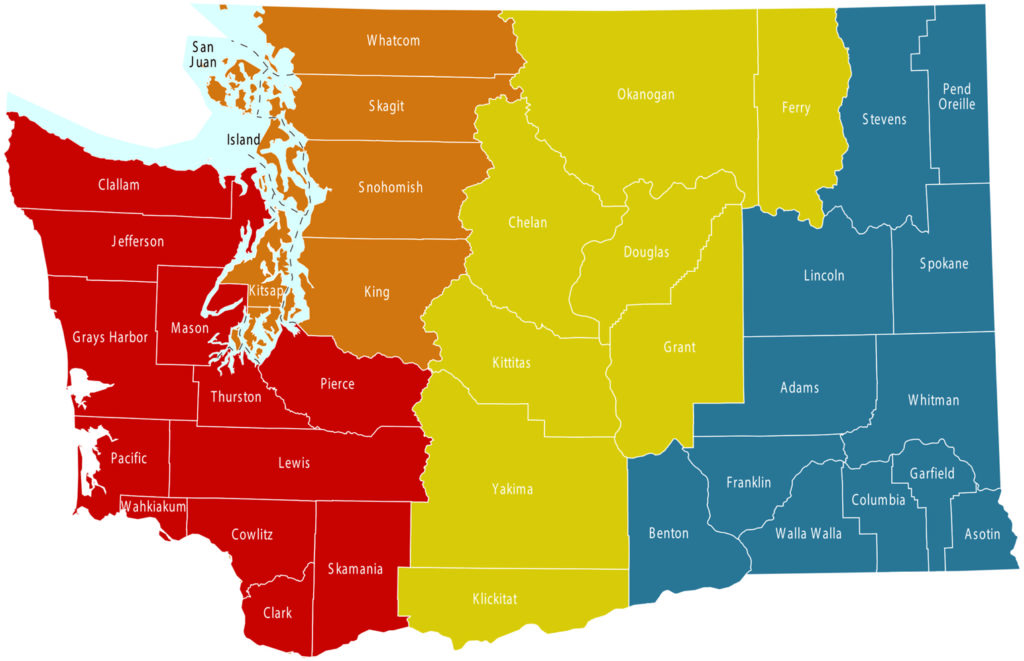 "Arts professional" means an individual who has professional work experience in the arts or arts-related field, including culture and tradition bearers, and artisans. For this program, we include emerging professionals with limited experience who are 18 years of age or more.
All funded projects, programs, and services must be open to the public. Organizations that receive operating support must be producing publicly accessible programming.
Examples of What We Do Fund

Music, dance, theater performances that are part of a season of events or a stand-alone event
Exhibitions of visual art
Poetry and literary readings, literary publications
Traditional or folk arts performances/festivals
Fees for professional guest artists
Royalties
Rentals of equipment
Broadcasts of the arts (i.e. via radio or webcasts)
Films, videos, digital arts, web-based arts projects
Professional development training, workshops, conferences, etc.
Residency programs
Youth arts programs that occur outside of school and are not offered for school credit
Travel expenses for contracted arts professionals from out of state (artists, technical staff, etc.)
What We Don't Fund

Certain Types of Activities at Schools, Colleges, and Universities
Events, activities, projects, or performances that are part of, or involve, academic or course credit
Tuition assistance for college, university or other formal course of study that generates course credit
Events that take place on campus that are not easily accessible by the general public and primarily attended by matriculated students
Individuals
Grants to individuals
Expenses for an individual to attend contests, conferences, seminars or workshops
Grants to students
Student scholarships
Payments to individual board members of the applicant, unless made in compliance with Internal Revenue Service 501(c)(3) regulations that limit such payments to professional services
Certain Types of Projects or Programs Conducted by Other State Agencies
State agency programs or projects that receive state appropriations for the same project
Private Purpose and Restricted Events
Events that are not open to the public
Activities primarily benefiting the organization membership
Activities financed by artist entry fees, particularly those involving cash prizes
Events not commonly recognized as a general public event, are an integral part of a specific religion, or promote a religious observance
Conferences benefiting a small group of people
Hospitality expenses such as food, flowers, receptions and similar items
Fund-raisers or benefit concerts
Certain Types of Capital Expenses
Renovation, remodeling, restoration, or new construction of buildings
Purchase of permanent equipment, software, or real property
Public art installations
Certain Types of General Expenses and Deficits
Activities or expenses outside the current grant period
Activities that have occurred prior to the period designated by the contract
Requests to cover previous losses incurred by the organization
Out-of-State Travel
Grants cannot be used to fund travel outside Washington
Apply Online Via Zoomgrants
The Zoomgrants application process is simple and easy to use. Please use the following browsers: Firefox, Chrome, or Safari. We do not recommend using Internet Explorer. Link will be available when grant program opens.