Washington State Arts Commission Fiscal Year 2020 Annual Report
ArtsWA is Washington State's arts agency. The work we do is based on the tenet that arts, humanities, and creativity is an integral element in the lives of all those who live and work in Washington State.
Executive Director's Message
Join Washington State Arts Commission's Executive Director, Karen Hanan, for a short retrospective of ArtsWA's 2020 fiscal year.
We are so grateful for the swift response ArtsWA had to the closure of arts organizations during the pandemic. I cannot think of a more effective way to handle it."  

– San Juan Community Theater
Guests from the Great River, 2020. Tony A. (naschio) Johnson and Adam McIsaac. Installed at the entrance to the Burke Museum of Natural History and Culture, in Seattle. ArtsWA in partnership with the University of Washington.
AIPP is viewed as a national leader for its diverse collection and strong acquisition and collection care practices.
Established in 1974 and funded through state building construction, the State Art Collection now includes nearly 5,000 works in places where people work, study, and live.
Salk Symphony
, 2019. Cappy Thompson. Completed in July at Salk Middle School in Spokane, this was AIPP's first installation of the 2020 fiscal year. Thompson was inspired by Salk's exceptional orchestra program.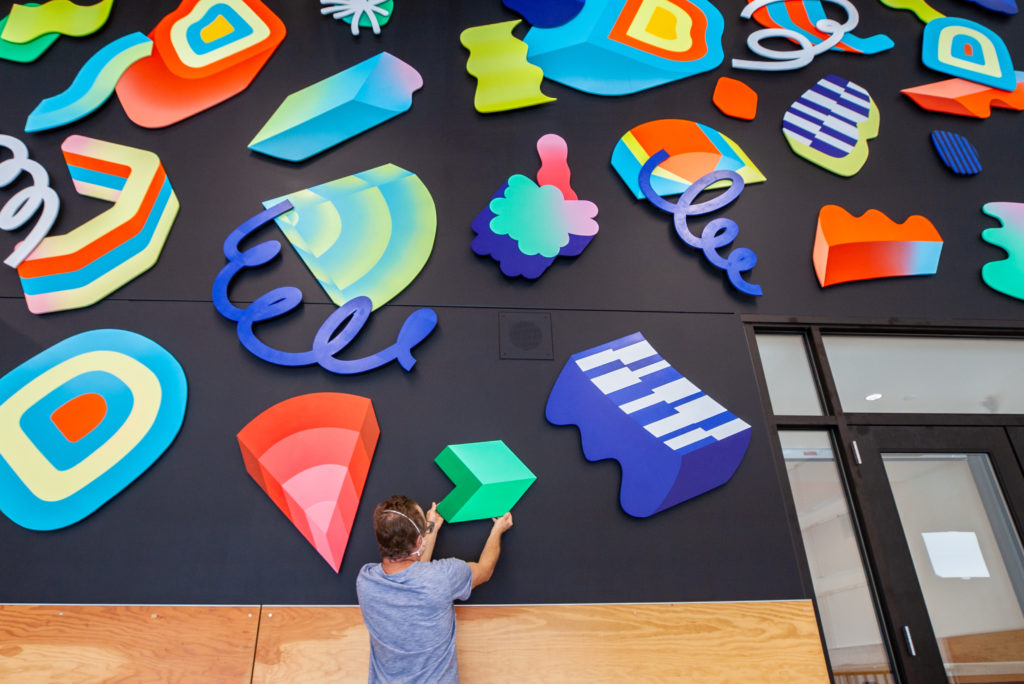 Artist Andy Arkley installing Chromamotion (2018), in 2020. Acquired as part of a curated collection for Salish Coast Elementary, selected by curator Lele Barnett. ArtsWA in partnership with the Port Townsend School District. Photo by Wiseknave.
Acquisitions
Remaining Local from a Distance
We regularly use the term "site responsive" to describe artworks created specifically for the community in which they are sited. AIPP is committed to acquiring meaningful, engaging artworks for our partners. During the artwork design process, AIPP project managers travel throughout the state to facilitate meetings with locally-formed committees. We establish their goals and hopes for a new artwork, and then walk hallways and campuses looking for ideal sites. Our goal is to acquire art that reflects their local values, and will inspire the people who experience it every day.
In FY 2020, AIPP oversaw the installation of seventeen commissioned artworks and two curated collections in public schools, colleges, universities, and state agencies across nine counties. We established a unique partnership with the Office of the Superintendent of Public Instruction (OSPI) to acquire existing artworks for elementary schools, and added a curated projects coordinator to oversee the process.
COVID-19 has, of course, changed the way we work. It has also created an opportunity. The time we spend on the road, an investment of staff hours and travel costs, has been greatly diminished. As AIPP staff and our partners become acclimated to online meeting software, we're learning how to serve our local communities more effectively and in a way that will have lasting effects. Post-COVID, a significant portion of committee meetings will be held remotely, and we are researching tools to improve the online experience. In-person meetings have been a challenge for some community members. These changes will save public funds and provide more opportunities for local engagement.
Collections Care
The health of our region's arts workforce is essential to the care of the State Art Collection. That workforce—including ArtsWA staff and contractors—repaired, re-framed, evaluated, installed, and de-installed more than 230 artworks in FY 2020.
Despite the obstacles COVID-19 sent our way, these arts workers made important progress on known and emergent needs. We paused much of our travel-dependent work as COVID-19 rates spiked in the spring. Fortunately, many conservation projects are solo efforts, conducted in the studios of private practice conservators. Framing likewise continued. And, as travel restrictions lifted, our staff and contractors masked-up and visited largely empty schools, colleges, universities, and state agencies.
While we know Washington students will return to school, it is not quite as fun to install a newly conserved or re-framed artwork in an empty building. Nonetheless, we are happy to help keep our eco-system of arts professionals employed during a challenging time.
Click here to see additional artworks that received collection care services in FY 2020.
Highlights of Conservation Projects
Four Corners (1999) by Salish artist Susan Point at North Seattle College – cleaned, repaired, and resealed
X-Position (1976), an outdoor sculpture by Robert Ellison – cleaned the concrete support pad with help from the facilities crew at WSU
Privacy Window (1975), a string and wood sculpture by artist Gloria Crouse – stabilized, with help of objects conservator Tom Fuller
A Dense Growth of Magnificent Trees (1990) by  artist Bruce Douglas Beal – repaired paint losses with help of paintings conservator Peter Malarkey
ArtsWA staff photograph and document an artwork's condition before it is re-framed. Louise Billy, Mid-Columbia River (1981) by Eduardo Calderón was re-framed prior to its installation at the Department of Social and Health Service's Division of Vocational Rehabilitation in Lacey, Washington.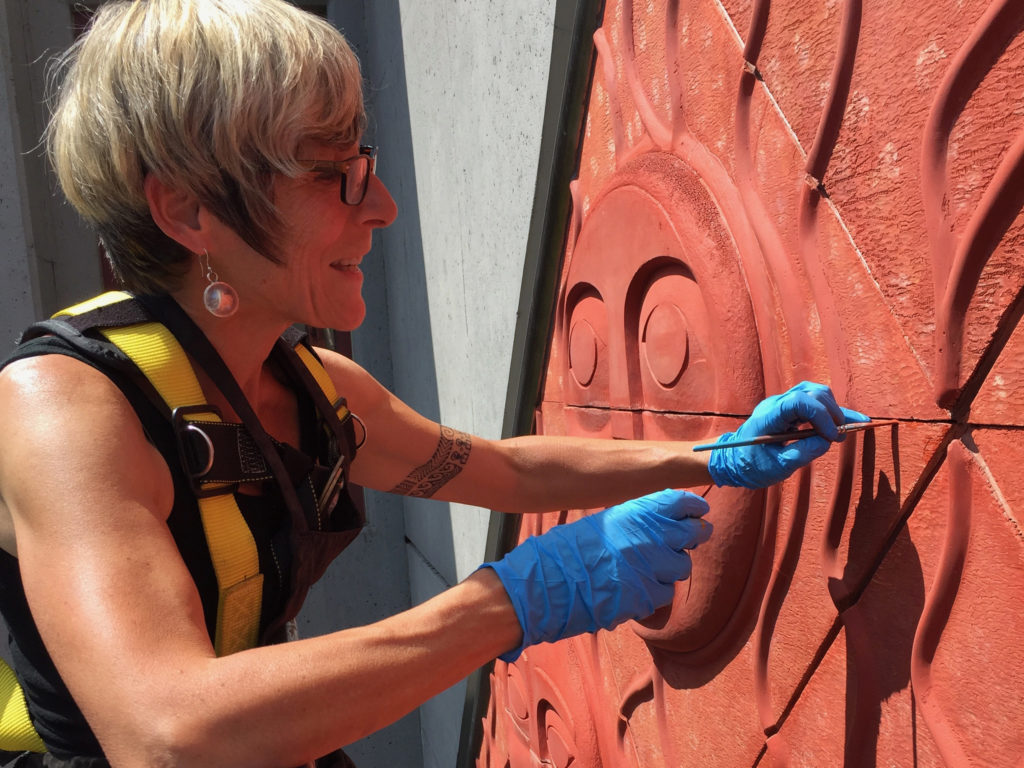 Conservator Corine Landrieu works on Susan Point's Four Corners (1999) at North Seattle College. Point created the artwork in tribute to the Indigenous communities that live in the area and the "new diverse ethnic population of the college and the surrounding community."
ArtsWA's Art in Public Places team added a new position in FY 2020. Collections Technician Jared Moore has helped ArtsWA respond more quickly to artwork needs across the state. In this image, he is adding a new, more secure mounting system to a large, wall-hung ceramic artwork that lives at Michael T. Simmons Elementary in Tumwater.
Big artworks demand big images. Explore larger images on My Public Art Portal. Seen here: Mammoth (2018) by Ilan Averbuch, located at Central Washington University, Ellensburg.
My Public Art Portal
Bigger and Better in FY 2020
My Public Art Portal is the online representation of Washington's State Art Collection. It is easy-to-use and fully searchable. It connects the geographically-widespread collection of nearly 5,000 artworks in one place. Every artwork in the Collection can be explored through images, stories about their meaning and creation, exact location information including geo-coordinates and maps, and more. Over the past year, My Public Art Portal experienced an 80% increase in online traffic, based on pageviews.
Bigger and better images arrived on My Public Art Portal this year! This improvement allows users to view artwork images at full-screen size. Most artworks on the Portal also include images of their actual locations that vary from K-12 public school foyers, libraries, and outdoor common areas, to  the reception areas, hallways, and campus squares of colleges, universities, and state government buildings.
Every year, we invite a variety of Washingtonians to curate web exhibitions for My Public Art Portal. These partnerships offer new and varied perspectives of the State Art Collection. This year's guest curators included First Lady Trudi Inslee and four Washington artists who are new to our Public Artist Roster.
Technology tools like My Public Art Portal bring the State Art Collection together in a single place, making the Collection visible and meaningful. We are constantly working to make the Portal a better tool. And in doing so, the Portal is revealing and reflecting Washington State as a place of rich, creative expression and interests.
Click here to view the State Art Collection.
Interested in guest curating a web exhibition? Email us at collections@arts.wa.gov.
Theatre Off Jackson, co-production with Pork Filled Productions, Fast Company. Photo courtesy Pork Filled productions, Joe Iano photographer.
GTO-funded projects, programs, and services span artistic disciplines, cultures and traditions, and expressive forms. They include professional training in the arts. They reach audiences and arts professionals in locations across the state.
Towards the end of FY 2020, Washington began putting policies in place to mitigate the spread of COVID-19. The negative effect on the creative economy as whole, was immediate – as was our response. Projects that could not be completed by the contractual due-date (close of fiscal year) because of pandemic-related emergency orders were eligible to be converted from Project Support to Operating Support grants. Converting to operating support allowed organizations to use grant money to shore up operating expenses in lieu of producing a public project. This allowed organizations to remain in business and continue to provide services to their communities.
Click here to learn more about the Grants to Organizations program.
I am so thankful for the granting programs through ArtsWA, it is difficult competing with urban based organizations that serve large populations for grant dollars. ArtsWA has really stepped into supporting small and larger organizations across the state."  – Confluence Gallery and Art Center
196
Grants funded in FY 2020

$405,028
Total amount distributed
$19,442,433
Total amount leveraged
55%
Grantees from outside King County
1,283,266
People served by ArtsWA funded organizations
Warm Springs elder Linda Meanus tells students in White Salmon, WA about growing up at Celilo Falls. Photo courtesy of Confluence.
We support every students' rights to accessible, relevant, and community-based arts instruction as a part of basic education. Arts in Education includes, but is not limited to, learning opportunities through dance, media arts, literary arts, music, theatre, and visual arts.
Community Consortium and First Step Grants
ArtsWA invested a total of $293,150 to support 21 Community Consortium grant programs that served PreK-12 students throughout Washington. One-third of these grants went to rural community organizations.
Our First Step grants support new and growing partnerships between schools, arts organizations, and community partners. Partners work together to identify and support the "first steps" in attaining high-quality arts learning programs. We distributed seven First Step grants, totaling $27,500 in investment in these programs.
Click here to learn more about our Arts In Education Grants.
Creative Start
The Creative Start program was launched in FY 2020 just as COVID-19 was beginning. The program supports and expands arts integration efforts in early learning (preschool through 3rd grade) communities. It aims to bridge the opportunity gap for Washington's youngest learners. Creative Start programming includes grants, professional learning opportunities, and resource development to support students, teachers, and families.
As schools transitioned from in-person to distanced learning, the program teamed up with a diversity of educators, leadership, media experts and artists. They created accessible resources for teachers and care providers working with early learners in crisis.
Creative Start launched with two grant opportunities. Site Grants are designed for those serving a single location and Regional Grants are for those serving multiple locations. Eight Site teams were awarded grant funding totaling $60,800 for FY 2021 to implement their arts integration plans in the coming school year. Regional Grant applications opened in spring, and will be awarded in the fall of 2020.
Creative Start Studio
The Creative Start Studio webpage includes film-making tutorials, 23 video mini-lessons, planning & teaching tools, and research. The mini-lesson project provided rapid funding to teaching artists. It is a resource to find a new idea, relieve some stress, and make some art together.
"I didn't start off absolutely loving poetry, but once you find a poem that really resonates with you, your appreciation for just literature in general can be deepened so quickly. It's such a great way for one to express themselves and it's a way to share with other people things that are important to you."  –Jordan Mattox, Meade HS, Spokane. Video Courtesy of Pardiman Productions.
Poetry Out Loud
Poetry Out Loud (POL) is a national poetry recitation competition for high school students.  Participating students develop a love for poetry, and build communication skills. They gain self-confidence and often discover a new outlet for creative expression. Poetry Out Loud is supported by The National Endowment for the Arts (NEA) and The Poetry Foundation.  ArtsWA coordinates and manages the program in Washington State. 18,000 students from 60 schools across the state participated in this year's competition.
Due to Covid-19, the National Endowment for the Arts cancelled the Poetry Out Loud National Finals. Instead, the NEA honored the achievements of the 2020 Poetry Out Loud State Champions by awarding each of the state finalists $1,000.
Jordan Mattox, a junior at Mead High School in Spokane, is the 2020 Poetry Out Loud Washington State Champion. She competed at the State Final held March 7, 2020 at the Museum of Glass in Tacoma with 11 other regional POL champions.
Teaching Artist Training Lab (TAT Lab)
TAT Lab builds professional learning communities for teaching artists and certified teachers that work with PreK-12 youth. Teaching in various artistic disciplines, these professionals improve and expand arts learning experiences in Washington.
The program adapted to virtual community building and learning in March 2020 in response to COVID. Offerings in FY 2020 included a seven-month intensive program for a cohort of 32 teaching artists. Curriculum focused on quality instructional design and racial equity.
TAT Lab is produced by the Washington State Arts Commission (ArtsWA), the State of Washington Office of Superintendent of Public Instruction, and Pacific Northwest Ballet, with support from the National Endowment for the Arts, Jubilation Foundation, and 4Culture.
21
Community Consortium Grants, totaling $293,150
7
First Step Grants, totaling $27,500
8
Creative Start Grants, totaling $60,800
32
Teaching artists participated in TAT Lab
18,600
Students in 60 schools participated in POL
Visitors enjoy downtown Port Townsend, one of five Washington communities certified as a Creative District in FY2020. Photo courtesy of Port Townsend Creative District.
The Creative Districts program expanded significantly in FY 2020. Following on our success of the previous year, we certified five new Districts: Langley, Port Townsend, Twisp, Tenino and Issaquah. They represent a broad geographic area, from the Olympic Peninsula to the eastern Cascade Mountains. With the exception of Issaquah, all of these communities are rural. Each District has a unique flavor that reflects its local region.
ArtsWA secured Capital Budget funding for a Creative District capital project pilot program. Districts can apply for grants to create and install small public-oriented projects—such as murals, streetscapes and wayfinding signs—within their District. The program will be administered in FY 2021. We were notified of our success just as the COVID-19 shutdowns took place. To ensure all of the Districts would be able to participate in the program, we adapted a grant match-reduction program. Pioneered by the Washington Recreation and Conservation Office, underserved communities are eligible for a reduced match provision. This allows them to compete more equitably with larger and more resourced peers. We also finalized our partnership with Washington State Department of Transportation to provide branded highway signage for the Districts. Signs will be installed starting next fiscal year.
COVID-19 profoundly impacted how we provide services to our constituents. The biggest impact was on our ability to visit Districts, because staff travel was curtailed. We moved all operations to online platforms, including our two certification panels. Despite the challenges of COVID-19, we did not see a slowdown in interest from new communities. In fact, interest has increased, because communities recognize the value the arts bring to their communities. They see Creative District designation as a way to knit their communities back together after COVID-19 by strengthening their local culture.
COVID-19 has had a devastating impact on [our town]. In this time of adversity, we must … use our creative spirts to build [our] future.  In becoming a Creative District, we get to come together and say to the world and to ourselves, "We are creating [our] future." – Dan Eernissee, City of Everett
Center for Washington Cultural Traditions
James and Roberta Wilburn of Spokane were one of 15 teams selected to participate in the 2019-20 Washington State Heritage Arts Apprenticeship Program (HAAP). Their project involved West African drumming in the Djembe tradition. Photo courtesy of Wilburn & Associates, LLC. See more information on all 15 of the 2019-20 HAAP teams.
The Center for Washington Cultural Traditions (CWCT) is a collaborative program by ArtsWA and Humanities Washington. The Apprenticeship Program and Cultural Traditions Survey are supported by the National Endowment for the Arts.
Masks decorated by service men and women displayed at the National Intrepid Center of Excellence, Washington D.C. Photo courtesy of National Endowment for the Arts Creative Forces Healing Network.
ArtsWA held Washington Creative Forces Summit II in October 2019 as a continuation of the work of the Creative Forces Summit I from 2017. As in the first summit, service members and veterans relayed how art therapies and community arts engagement programs aided their recovery from psychological health conditions related to war. However, the major work of Summit II was to help organizations build community engagement logic and measurement models. The logic model approach helps to guide decisions, priorities, actions, and responsibilities for current and future Creative Forces programs.
In May 2020, 35 attendees, representing dozens of organizations, attended a  virtual (re)convening of the Summit II cohort. Refinement of each of the organization's logic models and updates on the Creative Forces initiative took up most of the two-hour meeting. Members also shared news of the growing grass roots collaborations that help to serve the military/veteran community. These include referrals between programs, public-private partnerships, and new programming reaching a broader military, veteran, family, and caregiver audience.
Thanks to funding from the NEA, support from the Boeing Company, and the partnership with the Washington State Department of Veterans Affairs, both Summit II and the cohort (re)Convening helped to move the program forward.
We aren't broken, we're wired differently. We are healing, but we're healing in a way that's different…it's about redefining yourself and what your role is in your community." – Wes Davis, Army Veteran and Founder of Bedlam Arts.
Governor's Arts & Heritage Awards
Matt Cadman (left), 2019 Arts Advocacy Honoree, with Senator Brad Hawkins (right) pose in the photo booth at the 2019 GAHA Awards in Olympia.
The 2019 Governor's Arts and Heritage Awards (GAHA) were held in November 2019 at the Washington Center for the Performing Arts in Olympia. Since the first awards ceremony was held in 1966, over 260 artists and organizations have received a GAHA. GAHA is the only statewide awards ceremony that recognizes individuals and organizations for their significant contributions to Washington's creative vitality.
Eight individuals and organizations received a GAHA this year. You can view celebration videos of the winners by following the links below:
Davin Diaz – Arts Award – Community (Benton County)
Juan Alonso-Rodríguez – Arts Award – Individual Artist(King County) 
Michael Spafford – Arts Award – Legacy (King County) 
The 5th Avenue Theatre – Arts Award – Organization (King County)
Anne Banks – Arts Award – Education (Thurston County)
Matt Cadman – Arts Award – Advocacy (Chelan County)
Juan Manuel Barco – Heritage Award – Individual Artist/Practitioner (Snohomish County)
Northwest Native American Basketweavers Association – Heritage Award – Organization (King County)
Washington State Poet Laureate
Washington State Poet Laureate Claudia Castro Luna and her epic poem One River, Many Voices. She not only wrote the poem, but also designed and letter pressed a deluxe edition. Photo courtesy of Claudia Castro Luna.
It was a busy year for Washington State Poet Laureate Claudia Castro Luna. In January, she traveled to Olympia to present a poem on opening day of the Washington State Senate. She continued to collect poems for her digital poetry-mapping project, Washington Poetic Routes.
In March, Castro Luna launched Poems to Lean On, posting poems from Washingtonians that offer fortitude, hope, resilience, and humor. "I realized that I must not be the only person feeling confused, isolated, worried, in these uncertain times," she wrote.
As one of thirteen poets across the nation to receive a prestigious fellowship from the Academy of American Poets, Castro Luna began her One River, Many Voices project, which included four months of poetry readings and workshops along the Columbia River. Before the coronavirus pandemic locked down her travels, Castro Luna convened readings and workshops in Kettle Falls, Brewster, Pateros, Wenatchee, Mattawa, the Tri-Cities, and Clark County.
"In Kettle Falls, my first stop, much of my work revolved around the Kettle Falls library," Castro Luna wrote in her blog. "On Saturday I co-led a spirited workshop. Later I learned that some of the participants had driven up to two hours to attend."
As a result of her Columbia River travels, Castro-Luna penned the poem One River, Many Voices. The design and letterpress deluxe edition became the culmination of her two years as Designer in Residence at Seattle's School of Visual Concepts. A paper book edition will be distributed to the 67 library districts and all 27 tribal libraries in Washington State.
In the fall of 2020, her two-year tenure was extended for a third year by Governor Jay Inslee. "I accepted the extension with humility, respect and joy," she wrote.
The Washington State Poet Laureate program is a collaboration between ArtsWA and Humanities Washington.
Click here to learn more about the Washington State Poet Laureate.
MusicWorks4Veterans participated at Washington Creative Forces events and performed at the 2019 Governor's Arts & Heritage Awards program. With NEA Creative Forces funding, ArtsWA supported a MusicWorks4Veterans demonstration project as a part of our Creative Forces Summit II. Photo by ArtsWA.
| | |
| --- | --- |
| $2,433,493 | Capital Construction Funds (Art In Public Places program) |
| 2,574,000 | State General Funds |
| 845,600 | Federal Funds (NEA Partnership Grant) |
| 18,000 | Corporate Sponsorship |
| 3,704 | Industrial Insurance Refund |
| 481,600 | CARES Act Funding |
| $6,356,397 |  Total Funding for FY 2020 |
| | |
| --- | --- |
| $1,503,988 | AIPP Artwork Acquisition and Collection Care |
| 1,208,159 | Salaries |
| 467,608 | Benefits |
| 1,264,792 | Grants |
| 717,220 | Goods and Services |
| 231,922 | Contracts |
| 48,899 | Travel |
| $5,442,588 | Total FY 2020 Expenses |