Search the Collection: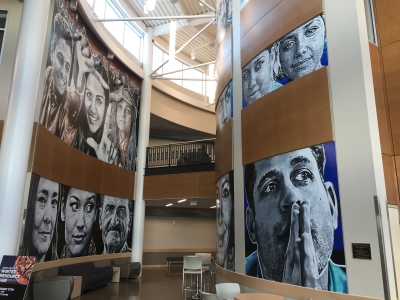 Artwork copyright Todd Benson. Photo courtesy of Washington State Arts Commission.
New Art: July 2017 to June 2018
The following Washington State Arts Commission (ArtsWA) public art projects were completed during the 2018 fiscal year (July 1, 2017 through June 30, 2018). They are located across Washington State, from Pullman to Sedro-Woolley, to Pasco and Bremerton. They also include one curated collection.
The Art in Public Places (AIPP) program facilitates the acquisition, placement, and stewardship of artwork in state-funded building projects throughout Washington. The Washington State Legislature established the AIPP program in 1974 to acquire artwork for K-12 public schools, colleges, universities, and state agencies, funded by ½ of 1 percent of the state's portion of construction costs. Today, the State Art Collection includes more than 5,000 artworks that are located where people study, work, and live. ArtsWA acts as administrator and caretaker of the State Art Collection—an incredibly diverse group of artworks that connects Washington's communities.
For more information on any of these projects, please contact us at collections@arts.wa.gov.
You can also search the Collection by location, keywords, and more.
Click on the red site names to see artworks at that location.
Read Less
Read More →
Cascade Middle School, Sedro-Woolley, WA
Centralia College, Centralia, WA
Columbia Basin College, Pasco, WA
Conway K-8 School, Mount Vernon, WA
Crestline Elementary School, Vancouver, WA
Department of Transportation, North Central Region, Wenatchee, WA
Garfield Elementary School, Olympia, WA
Hutton Elementary School, Spokane, WA
Irene Reither Elementary School, Everson, WA
Jackson Park Elementary School, Bremerton, WA
Marcus Whitman Elementary School, Richland, WA
North Creek High School, Bothell, WA
Pullman High School, Pullman, WA
Renton Technical College, Renton, WA
Silverdale Elementary School, Silverdale, WA
South Ridge Elementary School, Ridgefield, WA
South Seattle College, Seattle, WA
Tahoma High School, Maple Valley, WA
The Evergreen State College, Olympia, WA
Union Ridge Elementary School, Ridgefield, WA
University of Washington, Seattle, WA
Vashon Island High School, Vashon, WA
Warden Elementary/Middle/High School, Warden, WA
Washington State University, North Puget Sound Campus, Everett, WA
White Pass Junior-Senior High School, Randle, WA