Search the Collection: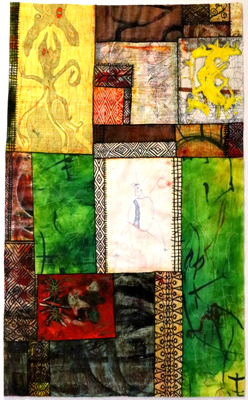 Artwork copyright Romson Bustillo. Photo courtesy of Washington State Arts Commission.
Asian and Pacific Islander Heritage Month: Comparing Pairs, by Mayumi Tsutakawa
"National recognition of Asian and Pacific Islander (API) American Heritage Day was set by Congress in 1978. Since then, it's grown to encompass a full month of arts and heritage activities, drawing attention to a plethora of API cultural communities and expressions in America.
Here I have chosen sixteen API artists represented in our public State Art Collection to examine the wide bandwidth their work represents.
I invite you to compare and contrast each pair of art works by API artists, using the themes I have chosen. Look at the titles, artist descriptions and the artwork. How are they similar or different? Why did I chose this theme? These pieces are all sited in educational institutions in our state, from elementary schools to public universities and I hope they provide occasional inspiration for our endless diversity of students." –Mayumi Tsutakawa, independent art writer.
May is Asian and Pacific Islander Heritage Month.
–Curated by Mayumi Tsutakawa, independent art writer. (May 2017)
(Click on the red thematic headings to see artworks connected to that theme.)
Read Less
Read More →
Before and After
Building Shapes
Hanging Patterns
Hard Work
Interacting with Water
Landscape Sculpture
My Heritage
Natural World