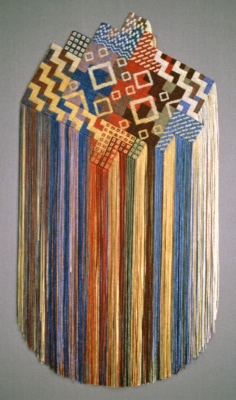 Artwork copyright Diane Itter. Photo courtesy of the artist.
Peruvian Wave,
1983
Diane Itter

(American, born 1946, died 1989)
Location:
Oak Harbor Elementary School, Oak Harbor
ABOUT THE ARTWORK
Peruvian Wave is part of late artist Diane Itter Healy's body of hand-knotted linen sculptures inspired by ancient Peruvian Textiles. She notes, "In this case the visual resource comes from fabrics constructed using both step weaving and tie-dye techniques. It has long been of interest to me to reinterpret the technical/construction of these particular textiles into an entirely new medium and material."
This artwork was acquired for the State Art Collection in partnership with Oak Harbor School District.
ABOUT THE ARTIST
Late artist Diane Itter Healy created fiber artworks. Her works are characterized by their bright colored linen thread and her use of hand-knotting techniques. She noted, "By limiting myself to one technique and one material I am forced to think of imagery, not any technical tricks or gimmicks." She received a Bachelor of Arts degree from the University of Pittsburgh in 1969. She received a Master of Fine Arts degree in fiber and textile design from Indiana University in Bloomington in 1974. A retrospective exhibition of her artworks was held at the American Craft Museum in New York City in 1995.
ARTWORK DETAILS
| | |
| --- | --- |
| Material Category | Textile / fiber / organic materials |
| Medium | Knotted linen |
| Dimensions | 16 1/2 in x 8 in |
| ID Number | WSAC1985.037.000 |
| Acquisition Method | Direct purchase |
| Artist Location | Indiana, United States |
Location Information
Agency
Oak Harbor School District
Artwork Location
Oak Harbor Elementary School
Classroom 19
WA County
Island
Placement
Interior
Site Type
Public School
Address
151 SE Midway Blvd
Oak Harbor, WA 98277
Geo. Coordinates
48.297151 | -122.643899
Before Visiting
Some artworks may be located in areas not accessible to the general public (especially in K-12 public schools). Consider contacting the site prior to a visit to ensure access.
Map


Menu