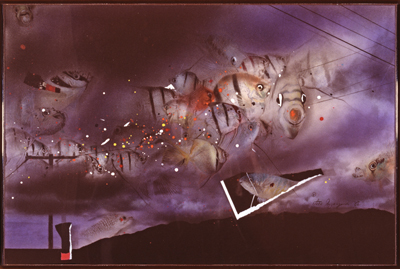 Artwork copyright Seta Injeyan. Photo courtesy of the artist.
Mare Nostrum,
1982
ABOUT THE ARTWORK
Mare Nostrum is a mixed-media painting by artist Seta Injeyan. The title refers to the Latin name for the Mediterranean Sea. She layered paints and colored pencil onto a film transparency, which she mounted onto paper. She notes, "The transparency medium allows me to present intuitive images and their conversion to yet other images. I create a new kind of reality based on an already existing one – a developed image on film."
This artwork was acquired for the State Art Collection in partnership with Department of Social and Health Services.
ABOUT THE ARTIST
Los Angeles-based artist Seta Injeyan was born in Aleppo, Syria of Armenian heritage and became a U.S. citizen in 1977. She received a Bachelor of Fine Arts degree at Art Center College of Design in Pasadena, California.
ARTWORK DETAILS
| | |
| --- | --- |
| Medium | Watercolor paint and pencil on transparencies |
| Dimensions | 13 in x 19 in |
| ID Number | WSAC1983.122.000 |
| Acquisition Method | Direct purchase |
| Artist Location | California, United States |
Location Information
Agency
Department of Social and Health Services
Artwork Location
Eastern State Hospital
Westlake Administration
WA County
Spokane
Placement
Interior
Site Type
State Agency
Address
850 W Maple St.
Medical Lake, WA 99022
Geo. Coordinates
47.573858 | -117.703851
Before Visiting
Some artworks may be located in areas not accessible to the general public (especially in K-12 public schools). Consider contacting the site prior to a visit to ensure access.
Map



Menu