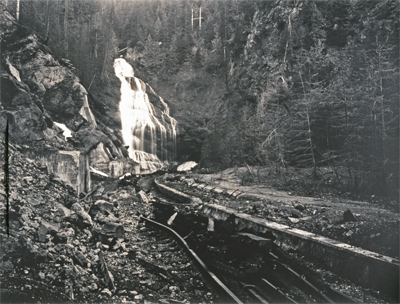 Artwork copyright Glenn Rudolph. Photo courtesy of the artist.
East Portal, Stampede Tunnel,
1989
ABOUT THE ARTWORK
East Portal, Stampede Tunnel is part of artist Glenn Rudolph's body of photographs documenting abandoned railroad lines in Washington, Idaho, and Montana. This image captures the Stampede Pass summit tunnel, located in the Cascade Mountains of Washington State. It first opened in 1888 as part of the Northern Pacific Railroad. Eleven hundred Chinese laborers constructed the railroad. Noting this fact, Rudolph states, "It is probably no coincidence that the scene resembles a Chinese landscape painting."
This artwork was acquired for the State Art Collection in partnership with North Thurston Public Schools.
ABOUT THE ARTIST
Glenn Rudolph's photographs tell the powerful stories of the Northwest's changing landscapes and communities. He has focused on disappearing farmlands, the bankrupt Milwaukee Railroad Company, landless Indian tribes, neighborhood gardens, and abandoned mine sites among other subjects.
Rudolph is a former commercial fisher and has been a photographer since the mid-1970s. He received a Bachelor of Fine Arts degree in painting from the University of Washington in Seattle in 1968.
ARTWORK DETAILS
| | |
| --- | --- |
| Medium | Gelatin silver print |
| Dimensions | 16 in x 20 in |
| ID Number | WSAC1991.162.000 |
| Acquisition Method | Direct purchase |
| Artist Location | Washington, United States |
Location Information
Agency
North Thurston Public Schools
Artwork Location
Washington State Arts Commission
Not on display. At ArtsWA pending conservation, framing, re-siting, or return to site.
WA County
Thurston
Placement
Interior
Site Type
Public School
Address
5900 54th Avenue SE
Lacey, WA 98513
Geo. Coordinates
47.000857 | -122.805015
Before Visiting
Some artworks may be located in areas not accessible to the general public (especially in K-12 public schools). Consider contacting the site prior to a visit to ensure access.
Map





Menu