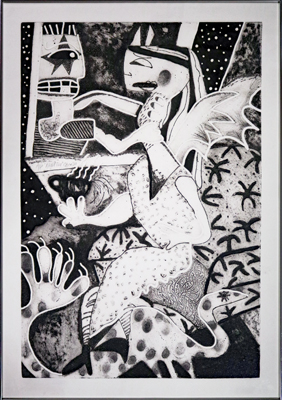 Artwork copyright Beverly Olson. Photo courtesy of Washington State Arts Commission.
Night Tea,
1982
ABOUT THE ARTWORK
Night Tea is a collagraph print created by artist Beverly Olson. In this printmaking technique, she collaged various materials and elements onto a printing plate. This process creates a variety of textures and forms in the print. This piece is part of the artist's suite of fifteen prints. She describes the suite as an anthology of dreams and fantasies. She notes, "A Printmaker works at arranging line, share and texture to construct a small flash of a dream."
This artwork was acquired for the State Art Collection in partnership with Kent School District.
ABOUT THE ARTIST
Beverly Olson is a Port Orchard, Washington-based artist. She received a Bachelor of Arts degree from Western Oregon State College in Monmouth in 1979. She receved a Master of FIne Arts degree from the University of Washington in Seattle in 1982.
ARTWORK DETAILS
| | |
| --- | --- |
| Material Category | Work on paper - print |
| Medium | Collagraph print on paper |
| Dimensions | 34 3/4 in x 23 1/2 in (overall) |
| ID Number | WSAC1984.146.000 |
| Acquisition Method | Direct purchase |
| Artist Location | Washington, United States |
Location Information
Agency
Washington State Arts Commission
Artwork Location
Washington State Arts Commission
Not on display. At ArtsWA pending conservation, framing, re-siting, or return to site.
WA County
Thurston
Placement
Interior
Site Type
State Agency
Address
711 Capitol Way S., Suite 600
Olympia, WA 98504
Geo. Coordinates
47.041975, -122.901474
Before Visiting
Some artworks may be located in areas not accessible to the general public (especially in K-12 public schools). Consider contacting the site prior to a visit to ensure access.
Map