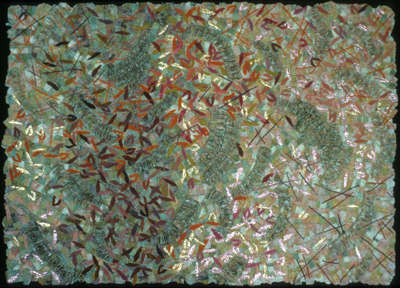 Artwork copyright Susan Brandeis. Photo courtesy of the artist.
For Love Must Have Wings,
1989
ABOUT THE ARTWORK
Artist Susan Brandeis' elaborate textile construction For Love Must Have Wings is a sewn assemblage of screen printed fabrics and flexible materials. Using imagery of natural objects that are screen printed in multiple layers, Brandeis builds a patchwork piece of intricate textures and lush surfaces that echo structures found in the natural world.
This artwork was acquired for the State Art Collection in partnership with Kent School District.
ABOUT THE ARTIST
Textile artist Susan Brandeis creates elaborate fiber compositions that explore and celebrate "the elements of Nature which ultimately lead to ecological harmony: growth and decay, order and chaos, agitation and tranquility, the ordinary and the sublime."
ARTWORK DETAILS
| | |
| --- | --- |
| Material Category | Textile / fiber / organic materials |
| Medium | Dyed, screen-printed, pieced, appliquéd, and stitched fabric |
| Dimensions | 4 ft x 6 ft x 1 in (irregular dimensions) |
| ID Number | WSAC1999.036.000 |
| Acquisition Method | Direct purchase |
| Artist Location | North Carolina, United States |
Location Information
Agency
Kent School District
Artwork Location
Glenridge Elementary
Main hall
WA County
King
Placement
Interior
Site Type
Public School
Address
19405 120th Ave SE
Kent, WA 98058
Geo. Coordinates
47.428276 | -122.182903
Before Visiting
Some artworks may be located in areas not accessible to the general public (especially in K-12 public schools). Consider contacting the site prior to a visit to ensure access.
Map




Menu