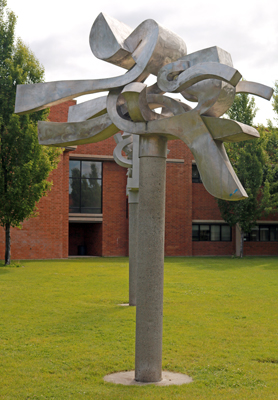 Artwork copyright Harold Balazs. Photo courtesy of Washington State Arts Commission.
Circle of Friends,
1999
Harold Balazs

(American, born 1928, died 2017)
ABOUT THE ARTWORK
Circle of Friends is comprised of five sculptures created by late artist Harold Balazs. Each piece features exuberant abstract forms composed from a different type of metal. This one is made of stainless steel. The sculptures are placed in Mt. Spokane High School's courtyard, encouraging friendly gatherings within the space.
This artwork was acquired for the State Art Collection in partnership with Mead School District.
ABOUT THE ARTIST
Celebrated Spokane, Washington-based artist Harold Balazs (1928-2017) created abstract sculptures and public art installations in a variety of materials.
Born in Ohio, Balazs's family moved to Spokane in the 1940s. He received a Bachelor of Arts degree in 1951 from Washington State College (now Washington State University) in Pullman, Eastern Washington. Many of his works are prominently featured in Spokane's public spaces. He was honored with a Washington State Governor's Arts and Heritage Award in 1988. Balazs continued to produce artworks into his late eighties.
ARTWORK DETAILS
| | |
| --- | --- |
| Material Category | Sculpture - other metals |
| Medium | Stainless steel on concrete column |
| Dimensions | 8 ft 9 in x 10 ft 9 in x 4 ft 10 in |
| ID Number | WSAC1998.003.001 |
| Acquisition Method | Site responsive commission |
| Artist Location | Washington, United States |
Location Information
Agency
Mead School District
Artwork Location
Mt. Spokane High School
School Courtyard
WA County
Spokane
Placement
Exterior
Site Type
Public School
Address
6015 E Mt. Spokane Park Dr.
Mead, WA 99021
Geo. Coordinates
47.788738 | -117.322416
Before Visiting
Some artworks may be located in areas not accessible to the general public (especially in K-12 public schools). Consider contacting the site prior to a visit to ensure access.
Map







Menu