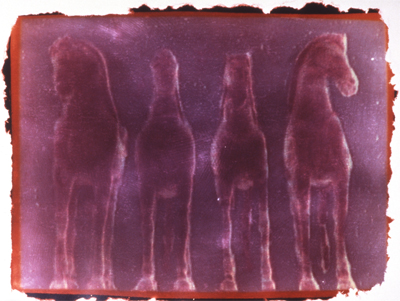 Artwork copyright Carolyn Krieg. Photo courtesy of the artist.
Quadrica del Sole,
1992
Location:
Walter Strom Middle School, Cle Elum
ABOUT THE ARTWORK
Quadrica del Sole is part of artist Carolyn Krieg's 'Fauna' series of unique manipulated photographs. This series is based on film the artist took while working at a wildlife rehabilitation center and at a riding school for the disabled. She notes, "In this series I was suggesting fossilized imprints from the past, or sepia images of long dead relatives."
This artwork was acquired for the State Art Collection in partnership with Cle Elum-Roslyn School District.
ABOUT THE ARTIST
Interested in psyche and spirit, artist Carolyn Krieg draws her subject matter from literature, memory and dreams. Her works are composed by manipulating photo negatives and Polaroid instant film with painted and printed layers. Her world travels influence her art.
Krieg studied at the University of Washington in Seattle and at Marylhurst College in Oregon. She received a Bachelor of Arts degree in French from the University of California, Santa Barbara.
ARTWORK DETAILS
| | |
| --- | --- |
| Medium | Altered chromogenic development print |
| Dimensions | 30 in x 40 in |
| ID Number | WSAC1993.056.000 |
| Acquisition Method | Direct purchase |
| Artist Location | Washington, United States |
Location Information
Agency
Cle Elum-Roslyn School District
Artwork Location
Walter Strom Middle School
Library
WA County
Kittitas
Placement
Interior
Site Type
Public School
Address
2694 State Route 903
Cle Elum, WA 98922
Geo. Coordinates
Before Visiting
Some artworks may be located in areas not accessible to the general public (especially in K-12 public schools). Consider contacting the site prior to a visit to ensure access.
Map
&key=AIzaSyDt6yY1uf4qKVXWk5gBs3g9qqg3e7eA6zk




Menu