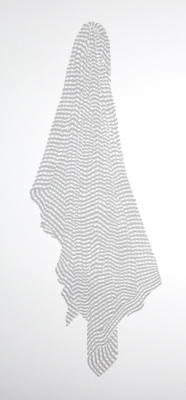 Artwork copyright Janet Marcavage. Photo courtesy of the artist.
Warp and Weft IV,
2012
ABOUT THE ARTWORK
Warp and Weft IV is a screen print by artist Janet Marcavage. It is part of her exploration of the patterns, movement, and meaning of textiles in daily life. She notes, "Observing and drawing from striped and gingham fabrics, I enjoy the way that these patterns shift meaning based on the form in which they take, such as the form of a table, girl, man or laundry pile."
This artwork was acquired for the State Art Collection in partnership with Peninsula College.
ABOUT THE ARTIST
Artist and Professor Janet Marcavage specializes in intaglio print and screenprint. She explores visual language throughout the history of printmaking.
Marcavage is a Professor of Art at the University of Puget Sound in Tacoma, Western Washington. She received a Bachelor of Fine Arts degree from The University of the Arts in Philadelphia, Pennsylvania. She received a Master of Fine Arts degree at The University of Wisconsin, Madison.
ARTWORK DETAILS
| | |
| --- | --- |
| Material Category | Work on paper - print |
| Medium | Screen print on rag paper |
| Dimensions | 22 1/4 in x 11 1/2 in |
| ID Number | WSAC2013.034.000 |
| Acquisition Method | Curated Selection |
| Artist Location | Washington, United States |
Location Information
Agency
Peninsula College
Artwork Location
Peninsula College
Maier Hall, 1st floor, west end
WA County
Clallam
Placement
Interior
Site Type
College
Address
1502 East Lauridsen Blvd.
Port Angeles, WA 98362
Geo. Coordinates
48.100425, -123.411272
Before Visiting
Some artworks may be located in areas not accessible to the general public (especially in K-12 public schools). Consider contacting the site prior to a visit to ensure access.
Map