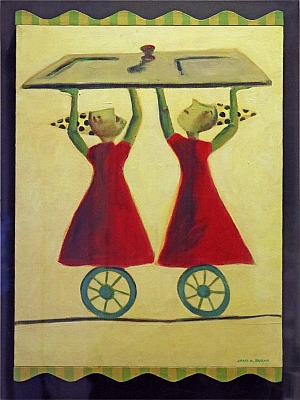 Artwork copyright Jane Burns. Photo courtesy of Washington State Arts Commission.
Twins on a Wire,
1999
Jane Burns

(American, born 1957)
ABOUT THE ARTWORK
Created as part of artist Jane Burns' series of paintings that feature twins, Twins on a Wire depicts two figures working together to hold up a door. Play features largely in this series and acts as a metaphor for communication, coorporation, and embracing different points of view.
This artwork was acquired for the State Art Collection in partnership with Seattle School District.
ABOUT THE ARTIST
While working as an illustrator and graphic designer, Northwest artist Jane Burns continues to create fine art paintings, prints, and multimedia artworks. Often inspired by children, Burns' artworks bridge the gap between fine art and functional objects. She has illustrated children's books and designed children's games like "Tiddley Winks." She lives and works in Bellingham, Northwestern Washington.
ARTWORK DETAILS
| | |
| --- | --- |
| Material Category | Painting - paint on fabric |
| Medium | Acrylic paint on canvas |
| Dimensions | 18 in x 14 in |
| ID Number | WSAC2000.173.000 |
| Acquisition Method | Direct purchase |
| Artist Location | Washington, United States |
Location Information
Agency
Seattle Public Schools
Artwork Location
TOPS K-8 School at Seward
Outside main office
WA County
King
Placement
Interior
Site Type
Public School
Address
3311 NE 60th St.
Seattle, WA 98115
Geo. Coordinates
47.642485 | -122.324236
Before Visiting
Some artworks may be located in areas not accessible to the general public (especially in K-12 public schools). Consider contacting the site prior to a visit to ensure access.
Map



Menu